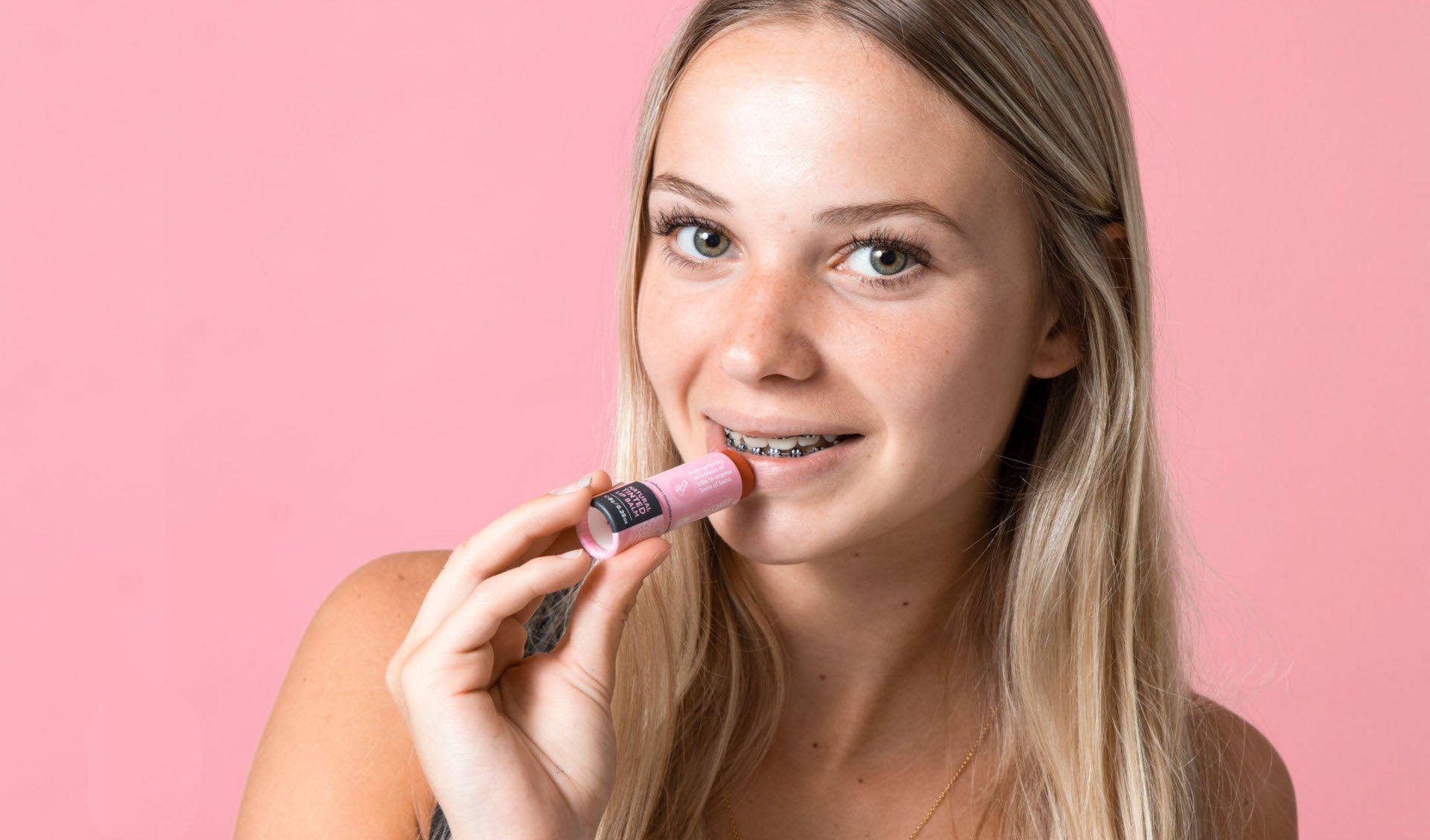 Is this New Zealand's best natural Lip Balm?
We think so!
When we were developing the formulations for our range of natural lip balms, we created a list of must-have qualities. Then we went ahead and added some extra features to take your lip gloss experience from good - to exceptional!
 1. Staying power
How frustrating is it when you slick on a glossy pout and - it's gone within minutes? Our lip balm won't leave you in the lurch. Expect luscious lips, for a long time. Need a top up? Slick on a refresher layer and you're good to go again.
2. Lush lip moisture
Our natural lip balms use a lush blend of certified organic cacao butter, jojoba, and rosehip to help hydrate, soothe and nourish lips, even in drying wind, sun or winter chills. 
We also added Tocopherol, which is the most active form of antioxidant superhero, Vitamin E, and coconut oil, along with olive oil.
This blend of nourishing oils, butters and vitamins helps your skin retain moisture and reduces dryness to keep your lips looking radiant, healthy and plush.
3. Barrier zone
As well as caring for your skin, the physical moisture barrier of the lip balm offers a protective layer that prevents the drying effect of sun, wind and cold.
This barrier layer will help keep moisture in, keep drying elements away, and allow faster healing if you do have chapped or cracked lips already. Nice.
4. Just a hint of colour
We love the option to add a little blush hue to our lips, so we added natural radish powder to create a tint of red in the Raspberry + Rosehip Lip Balm. Try it and enjoy a lovely raspberry flavour plus a pink berry tint on your lips!
5. Gorgeous flavour & scents
Let's face it, when a lip balm is 'right under your nose', it must smell delicious!
We used natural flavours and essential oils to create scents that you will love. From minty fresh to berrylicious, rich vanilla cacao or tropical pina colada, you can choose a scent to suit your mood and brighten each day.
6. A dash of extra protection
Because it's the ultimate holiday scent, we added zinc oxide into our Pina Colada + Zinc Lip Balm - it's not a sunscreen, but that extra protection won't go astray in a country like New Zealand where we have such fierce sun! 
7. Eco packaging 
Packaged in a paper compostable tube, our lip balm leaves no nasties in your body, or on the earth. How perfect is that?
What flavour will you choose? Shop the collection now.